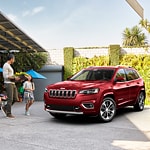 Looking for a vehicle built for outdoor adventure? The compact Jeep Cherokee SUV is a great option for those needing a ride that can handle all of the curve balls nature has to throw at them.
The all-new Jeep Cherokee is Trail Rated and thus has been proven to have excellent maneuverability, articulation, traction and more. It can even take on water, if need be, so you can drive forward with confidence. Additionally, when specially equipped, the Jeep Cherokee offers 4WD suitable for a variety of weather conditions. Along with this comes "Active Drive" which allows your Cherokee to automatically engage 4WD mode when needed in order to give you superior handling while also monitoring slips and slides while on your journey.
All in all, the Jeep Cherokee is a great vehicle to take with you for all of life's adventures. Equipped with all the features that make Jeeps great, we are certain you'll find the new Cherokee a satisfying ride.