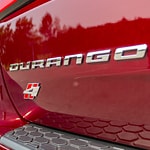 If you like having options galore when it comes to configuring a new vehicle, the Dodge Durango may just be what you're looking for. This popular mid-size SUV line-up offers a wide variety of customization possibilities to suit the preferences of almost every driver, and you can learn more when you visit our location here in Rogersville.
A burnished metallic finish on the wheel spokes is the most noticeable feature of the Brass Monkey appearance package while high-shimmer silver elements and coordinating accents placed around the Durango's chassis comprise the Anodized Platinum appearance package.
With its glossy, deep-black wheel spokes and mirror backs, the Blacktop package will set off any color scheme that you choose to pair it with. In addition to offering upgraded styling and trim, each package also comes with unique, strategically located badges and logos.